Come Join Us! (Registration is closed)
The 43rd Annual PSRFA Conference is set for October 17-18, 2019 at the Holiday Inn Harrisburg-Hershey, Grantville, Pa. This year's theme is Refresh, Renew, Rebuild.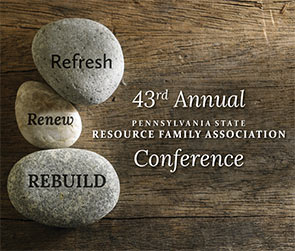 The conference will open with a luncheon on Thursday, October 17th. Our keynote speaker this year will be Tim Clue. Tim has spent a lifetime of helping people learn and laugh, he has developed a dynamic compound, redefining "motivation" as connection and trust, creating the perfect blend of laughter, thought and inspiration for every keynote he delivers. Tim's style reflects the chaos and speed in with which we now work and live.
Back again, our 3rd annual, Adoption Matching Event on Thursday October 17th from 5:00 to 7:00 pm. Our hope is to match children waiting for their forever home with a forever family to call their own.
The conference registration fee includes 8 hours of training, refreshments at breaks, six meals, and networking with other resource families throughout Pennsylvania.
Eleven separate workshops are scheduled for Thursday afternoon through Friday. There will be some informative new classes this year.
Thursday night's dinner will be an opportunity for all to sit back and relax. After dinner, join us for the Annual Benefit Auction for the PSRFA Scholarship Fund. Proceeds from the auction are the major sources of funds that PSRFA uses to provide scholarships to graduating seniors who are foster, adoptive, or biological children of foster parents.
Friday evening at our Annual Awards Banquet, we will honor the individuals who have done so much to help improve the lives of our families and children. Dress is semi-formal and the Strolling Strings will entertain during dinner.
We are always looking for auction items, so please feel free to bring some goodies with you when you come to the conference. We know that you will enjoy the conference and we are looking forward to seeing all of you there.
Sincerely,
Kathleen Ramper, Executive Director