Come Join Us!
The 44th Annual PSRFA Conference is set for October 1-2, 2020 at the Red Lion Hotel, Harrisburg, Pa. This year's theme is Nurture, Inspire, Empower.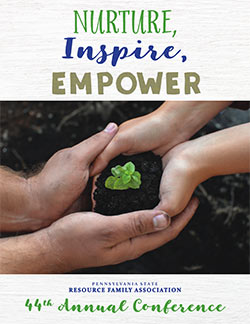 The conference will open with a luncheon on Thursday, October 1st.  Our keynote speaker this year will be Josh Shipp. Josh is living proof of the power of one caring adult. A former at-risk foster kid turned youth advocate. Thanks to the support of teachers, counselors, and a wonderful set of foster parents, Josh went on to be listed on Inc. Magazine's 30 under 30 list, and is now a postgraduate student at Harvard himself, further honing his skills in persuasive communication. To serve his ultimate goal of reaching as many youth as possible, Josh trains other speakers through Youth Speaker University, helping them use their own stories to make an impact.
The conference registration fee includes 6 hours of training, refreshments at breaks, five meals, and networking with other resource families throughout Pennsylvania. Five separate workshops are scheduled for Thursday afternoon through Friday.
Due to the restrictions on class room size our Keynote speaker will be presenting two separate times.
Thursday night's dinner will be an opportunity for all to sit back and relax. Though we will not be having a live auction this year we will have a silent auction. Proceeds from the auction are the major sources of funds that PSRFA uses to provide scholarships to graduating seniors who are foster, adoptive, or biological children of foster parents to help further their education.
Friday evening's banquet will be a little different than in past years. We will be using this time to show appreciation to all the attendees for all that they have done for the children and families.
We are always looking for auction items, so please feel free to bring auction items with you when you come to the conference. We know that you will enjoy the conference and we are looking forward to seeing all of you there.
Sincerely,
Kathleen Ramper, Executive Director